Sorry that it has been a while since I've posted.
I am keeping detailed logs of my play, but just haven't had the time to post them. Maybe I can get to that this weekend.
Day 19 Beginning Status Screenshot: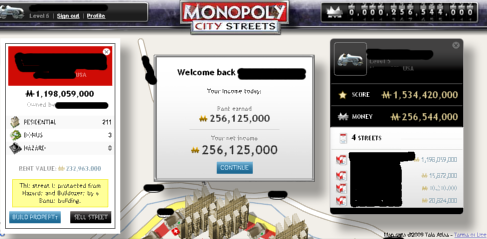 What is sad is that is about this is the rent amount I would have received two Sundays ago if the idiots who are running this game hadn't changed the game mechanics unannounced. I've had to change my strategy and have been playing catch up ever since...and it ruined my enthusiasm for keeping a public record of my gameplay. I have only now been able to move past that capricious move by the game developers. But enough of my ranting.
One thing that I had not anticipated was how rapidly the long streets would be purchased in the area I had chosen as my playing field. Players from all over the world descended upon the area, snapping up the plentiful long roads. I realized what was happening a little late, and was barely able to secure three of them for future expansion.
After building a few Sky High Towers (cost 30 mln each and pay 4 mln rent daily) to Street 1, I built several Grid Buildings on Street 2, selling City Centre Cottages as I ran out of space.
I only received one Chance Card. It was a 500K Entrepreneur of the Year Award.
Here is what the situation looked like at the end of Day 19: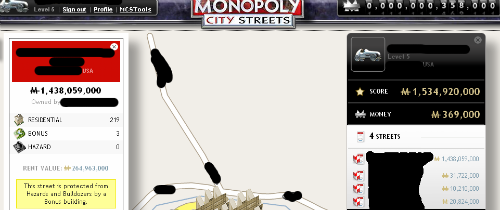 According to my calculations, I should receive 301,265,000 in rent on Day 20. Plus my 1 million welfare check and that should bring it to 302,265,000.
That would mean an increase of 45,140,000 to my income stream for a 17.6% increase.
I wonder if this is average or not.
Leaderboard Discovery
I discovered during a recon of the streets in my area, that there are people who should be on the local leaderboard, but aren't. They have the same geographical area listed on their profile as I do. This raises a concern as to the utility of the Leaderboard in the first place...
Can anyone offer an explanation as to why these players aren't listed?